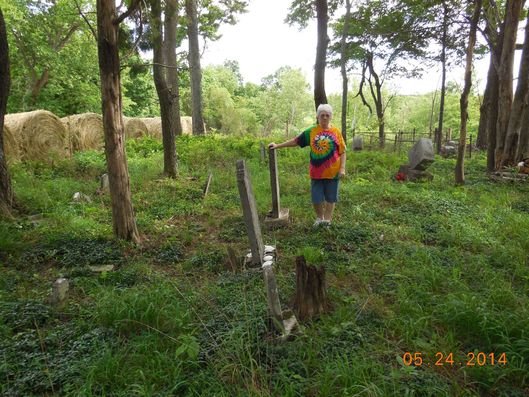 2014
Volunteers cleared the brush and weeds from the historic family cemetery allowing descendants to pay homage to their ancestors. (Photo courtesy of Larry Craig shows Betty Bower Craig visiting the Craig ancestors at the Craig-Onstott-Gill Cemetery on Gill Ridge Road).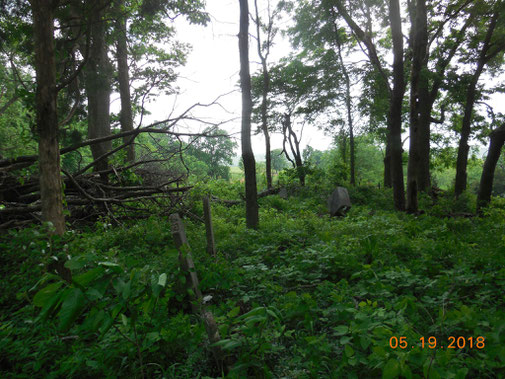 2018
Brush and weed growth to the adult knee shroud the beautiful stones from view.
A large brush pile recently dumped on the cemetery's outer edge covers five graves based on the 2014 photograph taken by Larry Craig compared to the 2018 photograph (right).
Volunteers are needed to remedy this situation.
Sinking stones on the outer edge will soon vanish. The society asks the families of those impacted to please call us and grant permission to bring these stones to the surface that we may catalogue and correct the cemetery record, if necessary.
---
Based on current cemetery records and previous recordkeeping of photographer, Beverly Mahoney, the following persons rest here:
Curtis W. ABBOTT (26 Apr 1872 - 25 Nov 1872)
E.A. ABBOTT (no dates given)
Lilia ABBOTT (8 Jan 1868 - 20 Aug 1863)
Infant son ABBOTT
Pearl ABBOTT (5 Mar 1879 - 24 Dec 1882)
John M. CRAIG (19 Nov 1830 - 9 Feb 1903)
Mary Onstott  CRAIG (24 Apr 1834 - 4 Dec 1879)
Thomas E. CRAIG (18 Mar 1876 - 16 Apr 1899)
James G. GILL (22 Jul 1809 - 14 Mar 1878)
Nancy Shirley GILL (7 Apr 1808 - 1 April 1882)
Elizabeth R.M. LADD (11 May 1870 - 10 Jan 1874)
Elizabeth VEST (1828-1901)
George VEST (1825-??)
---
To Volunteer, Donate, or Provide Permission to Remedy,
Please Write to Us.
Type CRAIG-ONSTOTT-GILL in the Subject Line of Your E-Mail.