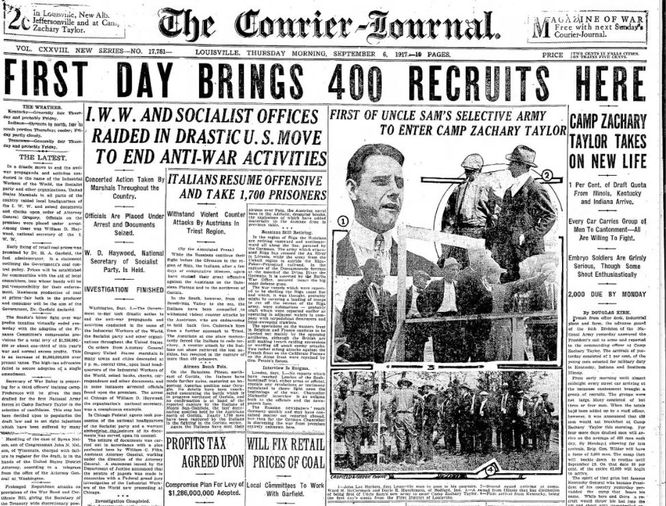 On September 6, 1917, seven pages out of ten of the Louisville Courier-Journal discussed war and Camp Zachary Taylor.  Soldiers listed by home county and state would train there then head for Hattiesburg, Mississippi. Germany entered the war and pointed the finger at France and Italy for their need to be involved at all.  Meanwhile, the folks on Capitol Hill argued over war profits taxation and high-tax advocates remained a minority.
President Wilson and Fuel Administrator, Harry A. Garfield, addressed
the increased demand for coal and fixed the retail price.
Analyses showed growing needs of railroads and businesses, not consumers, was responsible.
Back on the farm, some things remained the same with tobacco but  
apple crops fall delinquent in the bluegrass state.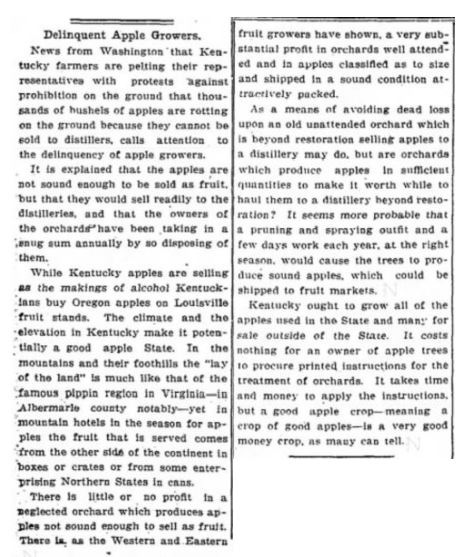 Orchards littered with rotten apples send them to out-of-state distilleries while Kentucky farm stand owners shipped apples into Kentucky from other states for consumption. Inquiring minds questioned why Kentucky left apples to rot on the ground when consumer demand was present for their crop.
The railroads mobilized to service the draft of 5,710 soldiers to the new Louisville cantonment including the Louisville & Nashville, Illinois Central, and Chesapeake & Ohio. From September 19, 1917 and five days thereafter special passenger trains carried soldiers drafted into the military to Camp Zachary Taylor.  Another 4,000 men each month was promised for the war effort.  
Henry Ford is called out for being a conscientious objector and another cartoonist takes a jab at the notion the trees could have eyes. An official report from the District Appeals Board states "No Conscience Is A Barrier To Service" as exemption was denied to sixty-six men who gave 'conscience' as the reason.  Those exemptions honored due to dependency claims or industrial claims appeared in the paper giving full name, address, employer, and type of exemption granted. One may deduce Kentucky's opinion of Henry Ford based on how the appeals board handled local cases.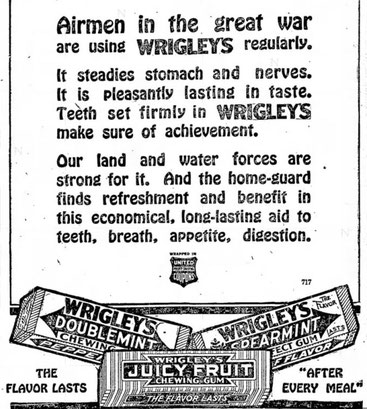 With almost every thought on the
Great War, Louisville Gas and Electric
took a moment to inform lady shoppers a new vacuum cleaner only uses three cents worth of electric.  
Industrial expansion and mechanical genius made more and more products available for consumers including that newfangled thing called a paper cup.
Necessary design improvements made this little invention indispensable to future consumers despite its
'flimsy' beginning.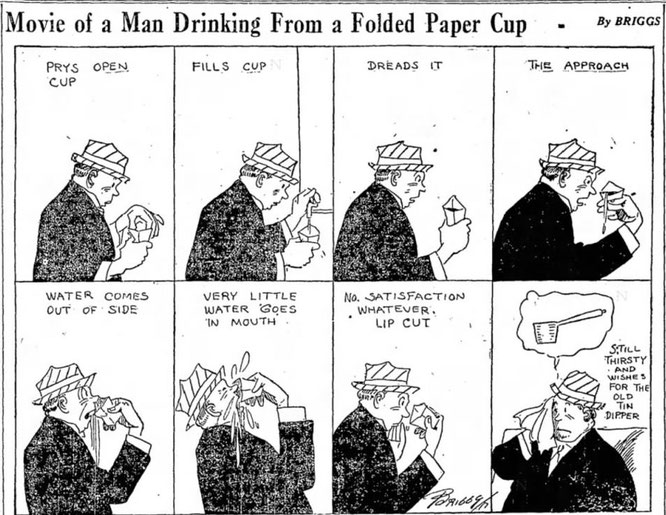 All newspaper clippings used here came from the
Louisville Courier-Journal published 6 September 1917,
available online at www.newspapers.com.