Trimble County High School
Approximately one hundred pupils from the schools of the county assembled at the Trimble County High School here last Monday, to compete in scholarship contests, deciding the championship in various subjects and the winners will be sent to the Eighth Annual Rural Tournament, at the University of Kentucky, on November 4 and 5 when the state champion will be selected.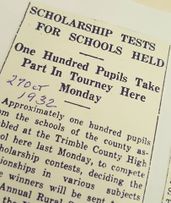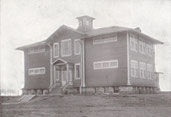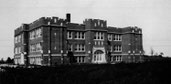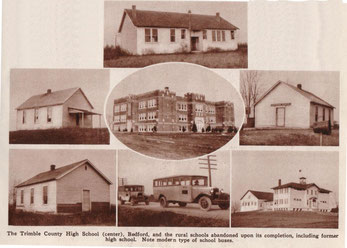 Photo Credit:  Bernie Spencer, Northern Kentucky Views
The tournament consists of music, athletics, scholarship, and declamation. 
The athletic contests for this county were held at the Trimble County Fair, and the winners were announced in the October 8 issue of the Trimble Democrat.
The winners in scholarship will be taken to Lexington on November 4, and those to take part in the athletic program will not go until November 5. Transportation will be furnished free both days to those who are to compete in the state tournament. Parents of children who won in this county and who are eligible to compete in the state meet will receive letters explaining the tournament in detail.
County scholarship winners are: general scholarship, Vesta Mae DUNN, Buck Creek; history, Harold BUTLER, Milton; civics, Josephine SPILLMAN, Bedford; hygiene, Robert UNDERWOOD, Mt. Tabor; geography, John Raymond SIBLEY, Bedford; english 5 and 6, Dorothy Ann SWISHER, Totten; English 7 and 8, Doris STOCKDALE, Milton; reading 5 and 6, Audrey Helen HORTON, Liberty; reading 7 and 8, Garland BAKER, Bedford; spelling 5 and 6, Helen JOHNSON, Mt. Pleasant; spelling 7 and 8, Catherine NOWLIN, Pleasant Retreat; arithmetic 5 and 6, Lawrence STONESTREET, Bedford; arithmetic 7 and 8, Pauline CUTSHAW, Bedford.  --- The Trimble Democrat
---