Michael Maddox (1789-1838), son of Daniel Maddox (1755 Lunenburg, VA - 1823 Jennings IN) and an unknown mother of Virginia, settled in Trimble County, Kentucky.  Many of his relations are buried in the Moffett Cemetery located in Milton, Trimble, Kentucky.  
His father, Daniel Maddox (1755-1823) was the son of Wilson Maddox and Jane Gwinn who migrated from Virginia to Kentucky in 1795 purchasing land first in Shelby County, Kentucky on Bullskin Creek.   Daniel Maddox remarried in 1798 in Shelby County to Miss Nancy Willis. Daniel Maddox was the first deacon of Burks Branch Baptist Church of Shelby in 1801. By 1813, the Maddox family was living near Corn and Spring Creeks in what was then Gallatin County (later Trimble).  Daniel Maddox also purchased land in Jennings County, Indiana but did not immediately move to that area.  
The name of Daniel Maddox's first wife from Virginia, mother of Michael Maddox, is unknown though she bore five children for him.  Nancy Willis and Daniel Maddox had an additional six children.  Daniel passed away in Jennings County, Indiana in 1823 while Nancy Willis Maddox passed away in 1855 at the age of 80 years also buried Indiana.  
MADDOX, MICHAEL:  Inventory, 2 February 1838: Selah [Celia Owsley] Maddox-widow administratrix. Commissioners, Jeremiah Strother, Robert Moffett, Burdett Mayfield. Persons buying at sale; Selah [Celia Owsley] Maddox, Mary Maddox, Eveline Maddox, John Gardner, Nelson Gardner, William Norvell, Wyatt Mayfield, Alexander Norvell, John Fresh, Harvey Spilman [Spillman], Jesse Wise, Robert J. King, Burdett Mayfield, Henry Gossom, Willis Singer, Wm. D. Stewart, Preston Young, Robert Moffett, Hugh McIntire, John Maddox, John Gossom, John Moreland.
Source:  Trimble County Will Book I (1837-1875), page 2
Descendants of Michael Maddox and Celia Owsley                  
1. Michael Maddox    b: 09 Nov 1789 Charlotte Co., VA   d: 09 Jan 1838 Trimble Co., KY
    +Celia Owsley    b: 09 Aug 1789 Fayette Co., KY   
    m: Jul 1810 Gallatin Co., KY    d: 26 Oct 1877 Trimble Co., KY
    Children:
    2.  Emily G. Maddox   b: 20 Dec 1813 Gallatin Co., KY     d: 12 Feb 1845 Boone Co., MO
         +George Alexander Norvell    b: 20 Jun 1810 VA   
         m: 09 Apr 1833 Gallatin Co., KY    d: 14 Nov 1856 Boone Co., MO
    2   Amelia T. Maddox    b: 16 Nov 1820 KY        d: 21 Sep 1896 Trimble Co.,  KY
    2   Lucinda Owsley Maddox    b: Apr 1823 Gallatin Co., KY  d: 18 Mar 1883 Trimble Co., KY
         +French Strother    b: 20 Apr 1811 Gallatin Co., KY  
          m: 28 Jul 1842 Trimble Co., KY    d: 06 Oct 1870 Trimble Co., KY
    2   John S. Maddox    b: 27 Jul 1827 KY        d: 04 Feb 1892 Trimble Co., KY
         +Lucetta Trout  b: 10 Feb 1826 KY m: 05 Mar 1850 Trimble, KY d: 01 Jun 1898 Trimble, KY
Genealogical data provided by Julia Maddox Mortensen, Maddox Family Researcher.  
Julia would like to make contact with additional Maddox family researchers.
Earlier in 1837...
 We find MICHAEL MADDOX appointed an appraiser of the estate of Daniel Wise, with Jesse Wise, administrator before his own  passing in 1838. Later Jesse Wise purchases items from the estate sale of Michael Maddox (see above).
30 November 1837: Sale bill:  A motion was made by Jesse Wise, admr. to appoint Thomas Gardner, George Kindle [Kendall], MICHAEL MADDOX, and John Gossom to appraise the estate. Buyers; Polly Wise, Robert B. Gray, Thomas Gardner, Wm. Bare, Phillip Monroe, Washing [Washington] Floyd, Daniel Barger, Daniel Smith, Peter Cummins, James Wise, John Chandler, John Gardner, Henry Gossom, Oliver Strother, Reuben Jackson, David Wise, Hugh McIntire, Thornton Blake, Talbot Gilum, Wm. Toombs, Geo. Thomas, Robert J. King, Jesse Wise, Eli Wise, Thomas Coner.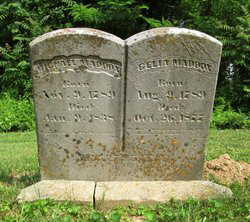 Trimble Cemetery Book 1, Part 1
contains transcriptions for Bedford I.O.O.F Cemetery (now known as Bedford Cemetery) and Moffett Cemetery.
Many other Maddox family members buried in Moffett Cemetery.
Please send a message to order a copy.
Moffett Cemetery Road, Milton, KY, USA
Moffett Cemetery sits atop Milton hill overlooking the winding Ohio River and the historic town of Madison, Indiana
Hours:  Open 8 AM to Dusk Each Day