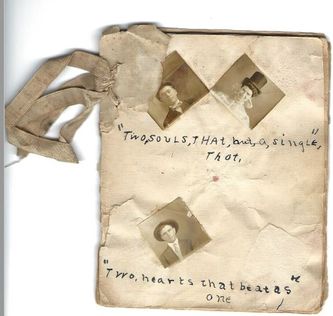 Among the items donated to the Trimble County Historical Society was a large brown envelope with the words 'Historical Society' written in a once beautiful but shaky script.  What to my eyes should appear but this gorgeous little book filled with well preserved dime store snapshots of a loving family with a good sense of humor.  I chuckled looking through this little treasure. 
My mother is also famous for putting catchy little phrases beneath old pictures.  Love and humor go hand in hand with her as it does with this family unit. 
The tenderness and love rolls off the pages here with the collector's words, "Love me and the world is mine."  A mirror into the past, the surveyor catches a glimpse of this unknown woman's heart.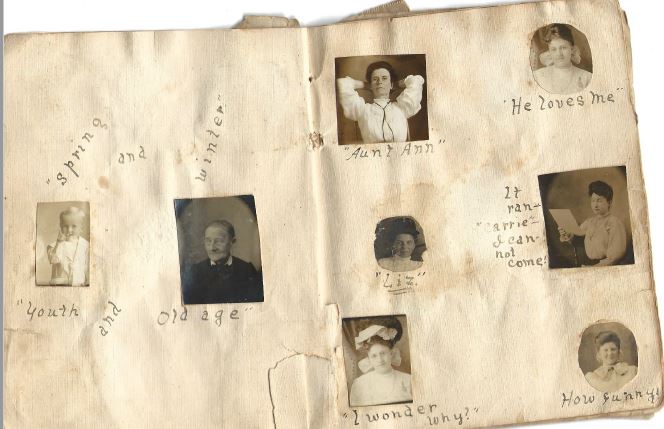 Finally, a clue comes!  Here, we see the poetic reminders of the Spring and Winter of life.  Pictures of women the collector calls Aunt Ann, Liz, and a girl declaring, "He loves me."  A lady writing her regrets for an invitation finds herself in a pinch when the ink runs (or so it appears).  "It ran -- Carrie -- I can not come!"  How easy it is for today's researchers to forget there was a time when ink was purchased by the well and sometimes, it ran.  She ends with, "I wonder why?" and another cameo that simply reads, "How sunny!"  Is this besotted young maiden the author of this beautiful book?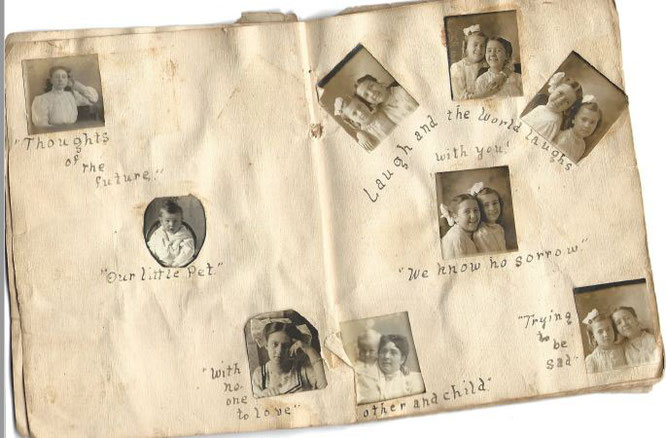 A new chapter opens for the chronicler displaying pictures of a thoughtful young woman and her children.  "Laugh and the world laughs with you," she writes along with the youthful reminisce, "We know no sorrow" as children.  Meanwhile, she confirms this truth with a picture of two girls only "trying to be sad" yet you can see the giggles in their eyes.  Meanwhile, she pokes a bit of fun at her melancholy middle schooler who looks as if she sits there "with no one to love."  This was a home filled with love.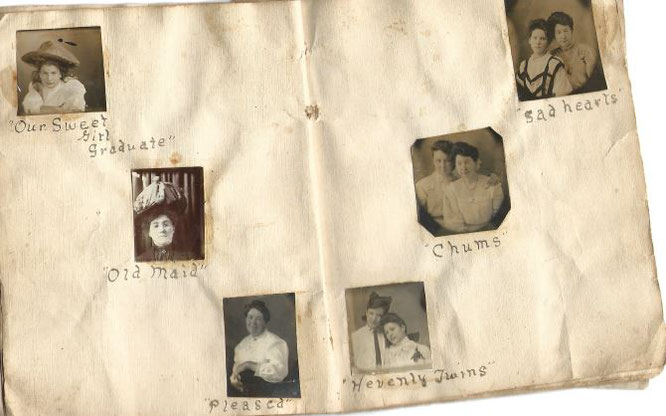 These pages continue the flow of life.  A girl graduates, another fails to marry, one is pleased.  Yet, something in the spirit of her words tells me the author is still poking a bit of fun at life itself.  She finds comfort in her love astride the sadness depicted in "Heavenly Twins" and "Sad Hearts" but "Chums" making us wonder if these two blissfully happy gals from the page before died all too young.  Yet, the mother fondly recalls them and their antics.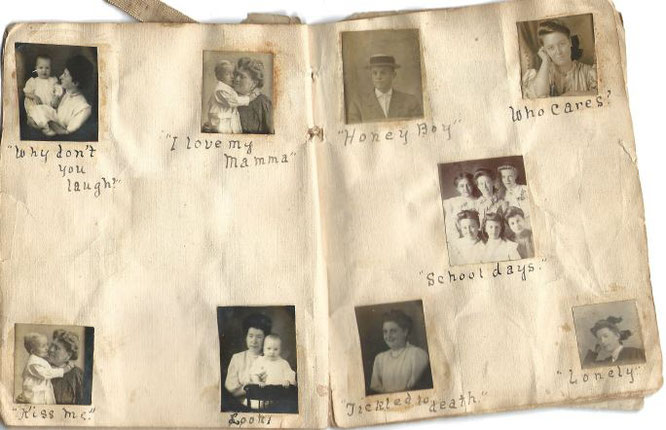 Yet another chapter opens in this life as the author becomes a grandmother.  This takes her back down memory lane again with humor in tow.  This woman certainly knew a spoon full of sugar helps the medicine of life go down.  I imagine her taking two sugars with milk in her coffee or tea.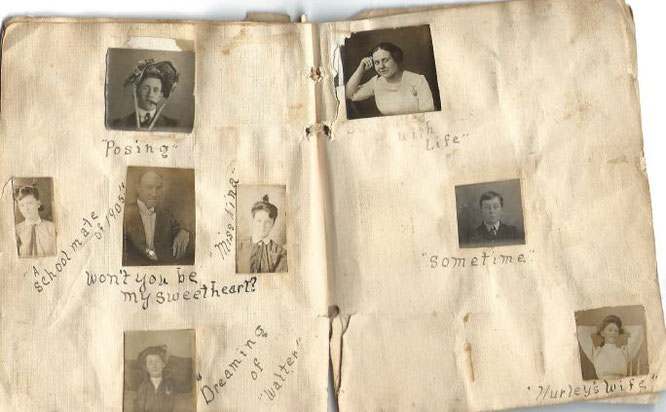 More of the author's antics.  I daresay she was never a dull moment.  I am still trying to figure out who this mysterious chronicler is then I see, "Hurley's wife".  Is Hurley the young man she calls, "Our little pet" in previous entries?  A look at the Trimble County High School rolls for 1914 produced a young man in his freshmen year named, Hurley Barnes.  Was the chronicler then Mrs. Barnes making 'Hurley's Wife' her new daughter-in-law?  Hopefully, this entry will prompt the memories of the Barnes family to prove or disprove my amateur detective work.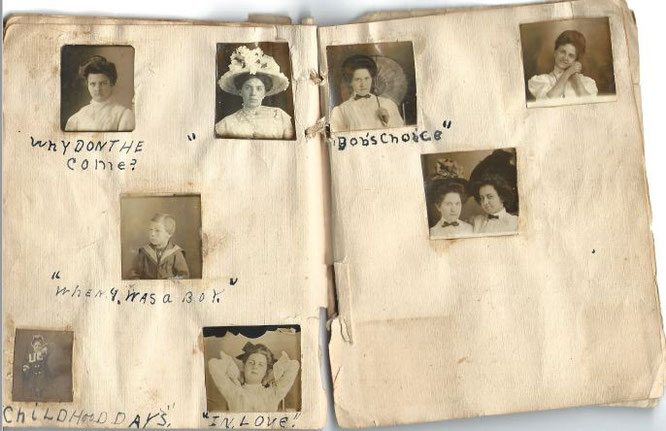 We see one lovely lady is "Bob's Choice" but nothing stands out to identify the others on this page.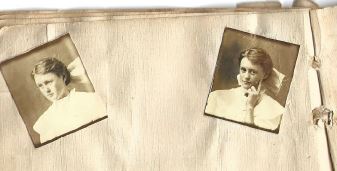 I am unsure if these are twin girls or two slightly different poses of the same girl.  The remaining pages were left blank.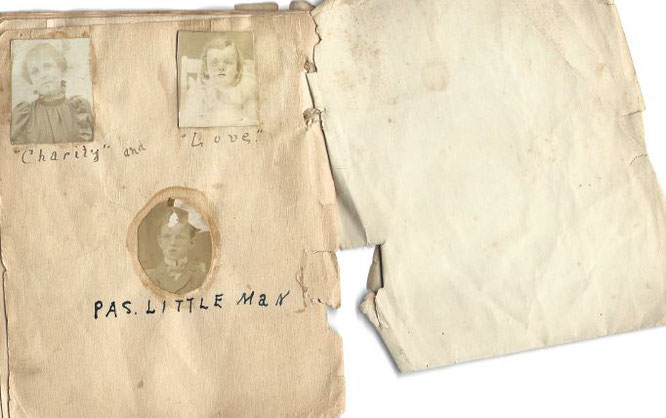 The collection ends like most of her entries -- on a sweet note.  What impressed me most about this collection was the love it put on display.  How appropriate that the back cover should showcase this woman's definition of "Charity" and "Love" right above the snapshot of "Pa's Little Man" front and center. Just who did he marry?
Thanks for walking through this little book with me.  If anything or anyone looks familiar, please let us know.  It is these things we find along the way in research that make the journey worthwhile.  Sometimes, we get a history lesson.  Sometimes, we get a lesson in love.