Bethel School was built in 1898 and was located on the western bank of the Little Kentucky River.   The land adjoined the Bethel Methodist Church a distance of one mile south, where US 42 winds down what is known as Scott Hill and is six miles northeast of Bedford.
The land where the small white building stood was donated by A.G. Hill but instead of being named for the land donor, it was given the name of the Bethel Church nearby.  Average attendance was 25 to 30 pupils although maximum capacity was forty (40) pupils from grades one to eight.  
Children walked to school.  Some enjoyed the walk but others were frightened by crossing the two swinging foot bridges across the river.  There was a division in the river at this point making two bridges necessary).  Ice and snow to a depth of four feet during the Winter of 1917 made it possible for the children to walk on top of the fence and posts.
The walls of the school were constructed with grooved ceiling board.  The blackboard was slate.  The seats were wooden desks, some of which were stationary.   There was a long "jerry-built" recitation bench facing the blackboard and pot-bellied coal stove heated the room.  Water was obtained from a spring that was at the water level of the Little Kentucky, since the dug well was not satisfactory.  All the pupils used the same water pail and dipper.  Lunch boxes of tin lard pails and woven reed sat on the shelf near the door.  A library of forty-odd books contributed by Mrs. A.G. Hill consisted mainly of alger books, but still very welcome.
In 1938...
Due to the consolidation with the Bedford Grade and Trimble County High [School], the school was discontinued and the land reverted to the donor.  
First Teacher:  Addie Combs Maddox*
Last Teacher:  Martha Hill (1936-1938)
The teacher who taught the most years consecutively at Bethel School:
Lizzie Spillman
Other teachers:
Mrs. Ella Perkinson
Claudys Carson
Elizabeth Spillman Webster
Nannie Pearl Daily Duncan
Elmer Wright
Frances Spillman Wilhoite
Ethel Calloway
Hula Peak Hoffman
Lula Welch Jones
Ethel Priest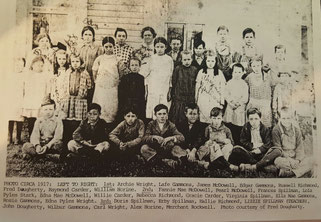 Ada V. Coombs Maddox was the daughter of Judge Samuel Coombs and Eva Mitchell Coombs.  She was the granddaughter of Addison Mitchell and Emily Coombs. She married Thomas A. Maddox of Trimble County, Kentucky. 
-- provided by Tina Mitchell Boutall